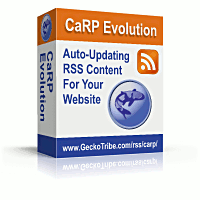 CaRP: Caching RSS Parser - Documentation
XML Encode
XML Encode
is a plugin bundled with CaRP Evolution 4.0 and higher. When loaded, it encodes all of the data from the feed so that it can embedded into an XML document.
Installation:
To install XML Encode, put xmlencode.php into the "plugins" folder inside the folder containing carp.php. (If no plugins folder exists, create one.)
Use:
The plugin was designed for and is loaded automatically by the
RSS 2.0 theme
, so when using the RSS 2.0 theme, it is not necessary to load the plugin from your code. Also, no configuration is required for this plugin.