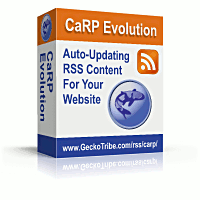 CaRP: Caching RSS Parser - Documentation
"rss20": RSS 2.0 Theme
| | |
| --- | --- |
| Author: | Antone Roundy |
| Filename: | rss20.php |
| MyCarpConfReset name: | n/a |
| Current version: | 1.0 |
Compatibility:
| | | |
| --- | --- | --- |
| GPL | Koi | Evolution |
| n/a | n/a | >=4.0 |
Description:
This theme configures CaRP to output in RSS 2.0 format, and provides an additional function to assist in the process.
IMPORTANT:
If you set the "outputformat" confirmation setting to 2 (to store CaRP's output in $carpoutput instead of displaying it), you must copy $carpoutput immediately after calling RSS20Aggregate, because subsequent calls to CarpCacheFilter and CarpAggregate will overwrite it, not append to it.
Example:
The following code shows how you could make a "mashup" feed using the feeds from Slashdot and Ars Technica using this plugin. Important points to note:
The code shown below is the entire contents of the file -- do not put any HTML code in the same file.
If you wish to set "encodingout", it must be done before loading the theme. With the possible exception of multi-byte language feeds, UTF-8 is the recommended encoding.
The "RSS20Aggregate" function outputs the feed metadata. It's arguments are the feed title, link, and description, optionally followed by a timestamp (which must be a UNIX timestamp number).
Be sure to call RSS20Aggregate before calling CarpCacheFilter.
You may use CarpCacheFilter, CarpFilter, or CarpGroupFilter to prepare the input data.
You may use CarpAggregate or CarpInterleave to output the feed items.
<?php
header('Content-Type: application/xml');

require_once '/path/to/carp/carp.php';

CarpConf('encodingout','UTF-8');

CarpLoadTheme('rss20.php');

RSS20Aggregate('My Feed','http://example.com/','I describe it thus');
CarpCacheFilter('http://rss.slashdot.org/Slashdot/slashdot','slashdot');
CarpCacheFilter('http://arstechnica.com/etc/rdf/ars.rdf','ars');
CarpAggregate('slashdot|ars');
?>