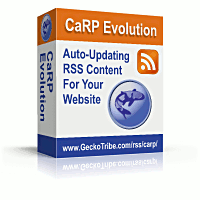 CaRP: Caching RSS Parser - Documentation
CaRP Installation Service Providers
Name
Payment methods
Currencies Accepted
Languages Spoken
This list is new as of 27 July 2006. No service providers yet listed*.
Service providers listed above are independent of and not affiliated with Gecko Tribe, LLC. Each provider sets their own prices and determines which specific services to include with installation.
* To be listed on this page, please send the information listed in the table above and the URL for your installation service order form to x-install-provider@geckotribe.com. Your email must include the following statement: "I accept the terms for inclusion in Gecko Tribe's list of CaRP installation service providers as specified at http://carp.docs.geckotribe.com/installation-service.php."
Terms for inclusion in Gecko Tribe's list of CaRP installation service providers
You set the price for and determine the exact details of your service (how many feeds you'll set up for the basic fee, etc.)
We do not require any specific refund terms, but you must publish your refund terms on your order form. If your terms differ from ours, your order form must state that your refund policy appies only to your services, and not to the CaRP software (for which our refund policy applies).
You may purchase CaRP licenses on behalf of clients (using an affiliate link if you wish) and include the license cost in your price, or have them send you their copy of the software. You must not "take their word for it" that they have purchased their own license.
All software licenses must be purchased before installation begins (however, see the note in bold below).
You may not sell CaRP licenses without installation service.
If you purchase licenses on behalf of clients:

I recommend installing the free version of CaRP first, to ensure that it works on the client's server. Once that is verified, the commercial version may be purchased and uploaded, overwriting the free version. It will not be necessary to repeat the installation process.
Unless your clients' sites are hosted on your servers and you have an applicable server or company license, your clients must have their own user licenses.
Your order form must enable ordering of all the licensing options available from our website (single webmaster, single server, company license).
Rather than listing the exact software price on your order form, you may list the price as, for example, "the cost of the software when purchased from Gecko Tribe" plus the amount you charge for the service.
If you list the exact software price, you must update the prices whenever our prices change (we will notify you), and you are responsible for resolving any disputes arising from your not updating the prices.

You must represent yourself as an independent entity, not affiliated with Gecko Tribe, LLC.
We reserve the right to refuse to list any service provider or remove any listing for any reason or no reason.
We may at some future time resume offering installation service, and may delete this list at that time. Or we may only continue to list installation providers who speak languages that we do not.