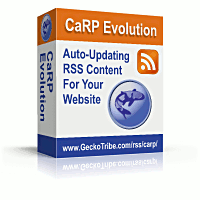 CaRP: Caching RSS Parser - Documentation
CarpUnmapField( CaRP field name, RSS field name [, is a channel field] );
Delete a mapping between an RSS element or attribute and one of CaRP's internal data fields
| | | | |
| --- | --- | --- | --- |
| Evolution | LE | Koi | SE |
| All | n/a | >=3.2 | n/a |
Description:
Removes field mappings created by CarpMapField, or default field mappings.
Arguments:
See the documentation for
CarpMapField
. Note that when unmapping a conditional mapping (where the second argument to CarpMapField was an array), the second argument to CarpUnmapField should be only the name of the source RSS field, not an array.
Return value
: none
Usage Example
:
<?php
require_once '/home/geckotribe/carp/carp.php';
CarpUnmapField('DATE','LASTBUILDDATE',1);
CarpCacheShow('http://www.geckotribe.com/press/rss/pr.rss');
?>