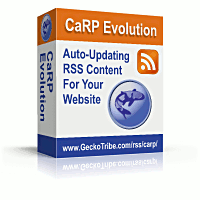 CaRP: Caching RSS Parser - Documentation
Database not connected
Explanation
You called a function which attempted to access a database, but CaRP was unable to connect to the database or doesn't know about an existing connection to the database.
Causes and Solutions
Your database configuration data is incorrect: Verify that the configuration information that you've given to CaRP is correct (probably in carpconf.php, or in the code of your page where you're using CaRP).
You are using both mySQL caching and CaRP Evolution's mySQL plugin, but you've only configured one of the two: mySQL caching and the mySQL plugin must have their connection configurations done separately. Be sure you've done both.
Your webpage has already opened a database connection, but CaRP thinks that it needs to open a connection (but doesn't have the necessary configuration settings to do so): Set the mysql-connect configuratin setting to 0 (zero) or store the connection ID from the connection you opened in the mysql-connection setting.
---
How can I turn error reporting off?
How can I stop error messages from linking to this page?